Takei fala dos problemas salariais nos filmes
 .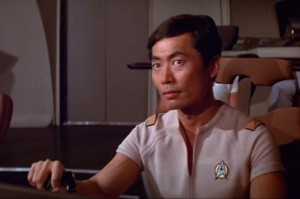 Numa entrevista à KCRW Radio, o ator George Takei comentou sobre os problemas iniciais para a produção do primeiro e do segundo filmes de Jornada. Takei falou sobre as negociações salariais com a  Paramount, o aumento para Nimoy e Shatner, dentre outros. Veja também o depoimento de  Douglas Trumbull de como conseguiu salvar o filme.
Depois de falar sobre seu novo documentário "To Be Takei," o entrevistador trouxe à tona o assunto dos problemas enfrentados pela produção no filme Star Trek: The Motion Picture e também como membros do elenco foram pagos nos filmes seguintes. Veja um trecho da conversa
Kim Masters do KCRW: Então, voltando no tempo, eu escrevi um pouco sobre o primeiro filme de Jornada … Havia muita disfunção na família de Jornada. Originalmente, eles não incluíram Spock e o Leonard Nimoy teve grandes problemas com a Paramount. Eu acho que eles estavam em litígio. Houve também problemas com Gene Roddenberry. Eles trouxeram Harold Livingston para escrever o roteiro e os dois estavam em guerra um com o outro. Eu li, e eu acho que eu mesmo me escrevi, sobre como Livingston iria escrever sua versão do script e, em seguida, Gene Roddenberry em um ponto interceptou as páginas, substituindo pelo seu próprio e vocês no elenco não sabiam o que estava ocorrendo, no início do filme.

Takei: Nós não sabíamos e continuávamos recebendo reescritas após reescritas e neste primeiro filme tivemos mais dificuldades. Nós estávamos em apuros desde o início e ficou muito acima do orçamento e além do prazo agendado. Foi quando a Paramount disse que não iria mais haver filmes de Jornada – foi isso … mas quando foi lançado, graças a Deus, os Trekkies estavam alinhados em frente à bilheteria e fizeram dele um filme rentável e assim o pensamento da ganância veio na recepção do filme e eles decidiram que iriam fazer outro, mas isso foi quando Leonard (Nimoy) entrou no jogo. Ele disse que este segundo seria o último – A Ira de Khan. Ele não iria fazer mais Spock porque estava afetando sua carreira. Então, os fez acordar, eles tiveram que escrever em seu contrato, que seu personagem seria morto no final de A Ira de Khan. Ele estava de fato morto, mas Nick Meyer, o escritor, conseguiu uma saída um pouco antes dele morrer. Ele toca McCoy e compartilha uma linha muito enigmática "lembre-se, lembre-se" e, em seguida, ele vai para aquela câmara de radiação. Verifica-se que isso foi a chave, e porque A Ira de Khan tornou-se um sucesso de bilheteria para a Paramount, que queria fazer outro filme de Jornada. Mas ele tinha morrido.

Masters: Então o trouxeram de volta. É a maneira de Hollywood.

Takei: Bem, ele foi seduzido pela remuneração. E isso foi quando descobrimos que Bill havia escrito em seu contrato que, se qualquer outro ator fosse remunerado mais do que ele, o seu deveria subir igualmente.

Masters: O resto do elenco descobriu e disse: "se eles estão recebendo isso, então devemos ter isso?"

Takei: Nós fizemos. E sem sucesso.

Mestres: Bem, eles foram durões naqueles dias. Barry Diller, Michael Eisner e Jeffrey Katzenberg. Difíceis

Takei: Sim, eles eram caras durões, sim.
Nota.
A lembrança de alguns desses eventos por Takei diferem do que disse Leonard Nimoy sobre o assunto em outra oportunidade. Aqui está o que disse Nimoy em 1986, em uma entrevista ao Sun Sentinel.
Durante anos, a comunidade de Hollywood continua a alimentar o boato de que Nimoy estava doente e cansado de colocar suas orelhas pontudas e fazer o Vulcano. Na verdade, depois que Spock morreu no final de Star Trek II, Nimoy se reuniu com Michael Eisner – então presidente da Paramount – para fazer lobby por uma chance de dirigir Star Trek III. "Eu não posso entender como você pode me pedir para fazer isso", disse o Eisner perplexo declaradamente. "Como você pode me pedir para dar-lhe o controle de uma produção de 16 milhões dólares quando você odeia? Você odeia tanto que tinha se matado!"

Nimoy nega esses rumores. "Nunca houve um projeto de Jornada em que eu havia sido parte, e ainda há essa noção persistente que eu me recusei a fazer Jornada ou de tê-la rejeitado, de alguma forma", diz ele. "Há algum tipo de anomalia estranha acontecendo aqui, certo? "
Em uma outra entrevista ao The Hollywood Reporter, o mestre dos efeitos visuais Douglas Trumbull contou que esteve na edição final de Star Trek: The Motion Picture para ajudar a equipe de filmagem, depois que ele inicialmente recusou um acordo para fazer os efeitos do filme. Neste vídeo, ele fala sobre como veio a bordo para "salvar" o filme.
Trumbull contou que foram cometidos muitos erros durante a edição final, de modo que já havia passado um ano, gasto muito dinheiro e "nenhuma filmagem havia sido completada (com os efeitos visuais e som), nada funcionava". O estúdio estava em pânico, faltavam seis meses para o lançamento e eles já haviam recebido adiantamentos dos exibidores para entregar o filme pronto no Natal, "Eles receberam trinta milhões de dólares em pagamento adiantado para levar o filme aos cinemas em 7 de dezembro", disse o diretor de efeitos.
Após a primeira recusa (estava ocupado com Encontros Imediatos do Terceiro Grau), Trumbull aceitou participar de uma reunião com o diretor Robert Wise e os executivos da Paramount. Barry Diller, então presidente do estúdio, explicou que Star Trek O Filme era o primeiro filme da franquia para o cinema e era muito importante para eles que fosse ao nível de Star Wars.
Aproveitando-se da situação, Trumbull pediu bem alto, porque sabia que corriam o risco de enfrentarem processo pelo não cumprimento do prazo, "Não havia melhor situação do que essa", disse o diretor.
Tempo, e não dinheiro, foi o maior problema para Trumbull e sua equipe, que tinham seis meses para deixar tudo no ponto. Então formularam um plano que envolvia aproveitar os trabalhadores, equipamentos e mesmo tomadas de Contatos Imediatos e de Star Wars feitos por eles.
Mas este trabalho intenso custou a saúde de Trumbull, "Tivemos seis meses para terminar o filme e eu fiquei duas semanas no hospital. Mas nós entregamos", finalizou.
Fonte: Trek Movie – TB